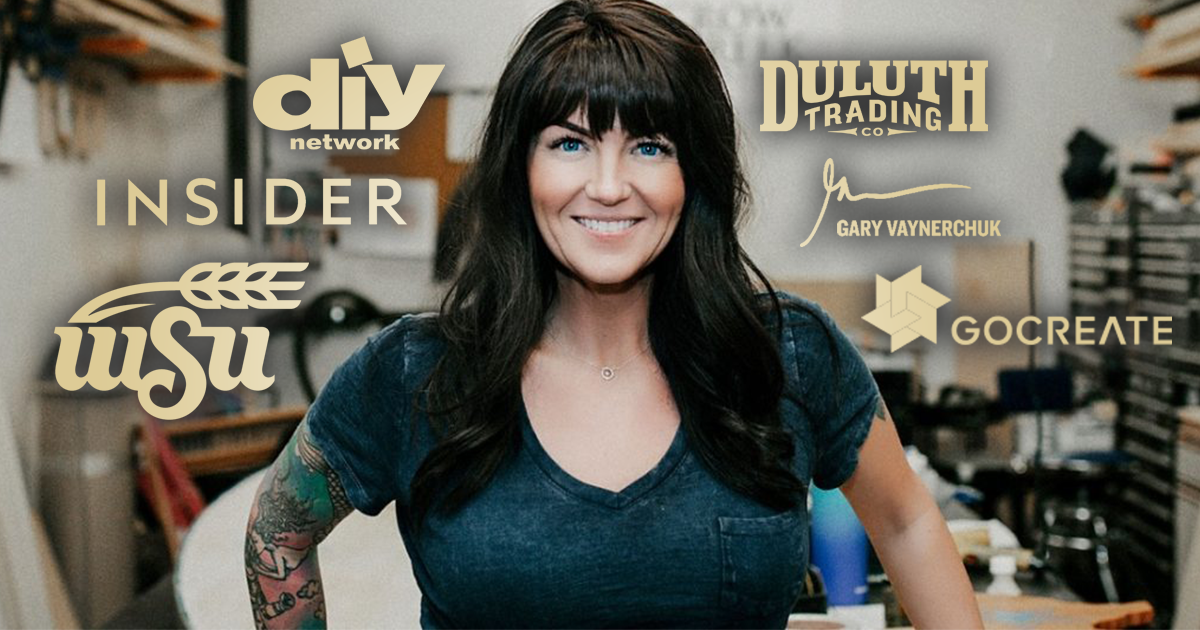 A Crow is flying to Wichita… to MAKE things!!!
If you stay in-tune with the world of "makers", you've undoubtedly heard the name Jess Crow, a nationally known "maker" with hundreds of thousands of loyal followers across the nation. And now… Jess is coming to Wichita for MULTIPLE events at WSU's GoCreate Workspace!! Click HERE to see Jess's EVENTS!!!
From her home in Alaska, Jess Crow created Crow Creek Designs, a woman-owned and run woodworking shop. Jess quickly established herself as one of today's leading authorities in artistic woodworking and epoxy in America. With forays in other areas of art including bead work, photography and print, Jess has cultivated her passion for designing and creating that blends both woodworking and epoxy.
Jess's designs have been seen all over the world and have caught the eye of many including Discovery's DIY Network, internet mega-corporation LinkedIn, global news publication Insider, Duluth Trading Co., NYC based media giants Team Vaynerchuk and more!
As if that weren't enough… Jess worked with epoxy manufacturer TotalBoat to engineer a custom high-end epoxy resin specifically for use in art and furniture design. Her own brand MakerPoxy is currently available nationwide through Amazon and James Town Distributors, but you can get your bottle of Jess's epoxy at her events coming up at WSU's GoCreate Workspace as she inspires and teaches you how to make your very own epoxy projects! Jess's classes are usually quite pricey… but thanks to WSU's GoCreate Workspace, you can attend Jess's "Epoxy 101" for FREE and get access to Wichita's world-class makerspace! Click HERE to learn more.
She's a BIG deal on social media…
The internet isn't always an easy place, particularly for female independent artists. Jess Crow found her own inspiration however, to not only build the thriving Alaskan-based woodworking empire Cross Creek Designs, but she somehow also found the time to grow her social media presence to include HUNDREDS of THOUSANDS of loyal followers along the way! Can you say Superwoman!?!!?!?
Before Jess leaves Wichita, she will be holding a masterclass on social media called "Passion to Profit: Using Social Media to Make Bank!". This class is for anyone that would like to grow their social media presence in a positive, healthy way that will continually help you grow your fan base while encouraging more engagement from your audience. Jess will also talk about some tips, tricks and insider knowledge as to what it takes to build a "successful" social media presence in 2021.
After her tour stops at WSU's GoCreate Workspace on August 3rd, Jess will only return to Wichita one more time later in 2021, so be sure check out her events here on WichitaEvents.com and get enrolled at WSU's GoCreate Workspace by calling (316)978-2378!!!
We can't wait to meet Jess and spend some time at one of the BEST makerspaces in the United States right here in Wichita, Ks at Wichita State University's GoCreate Workspace!!! Click HERE to check out Jess Crow's EVENT PAGE here on WichitaEvents.com!!!
---