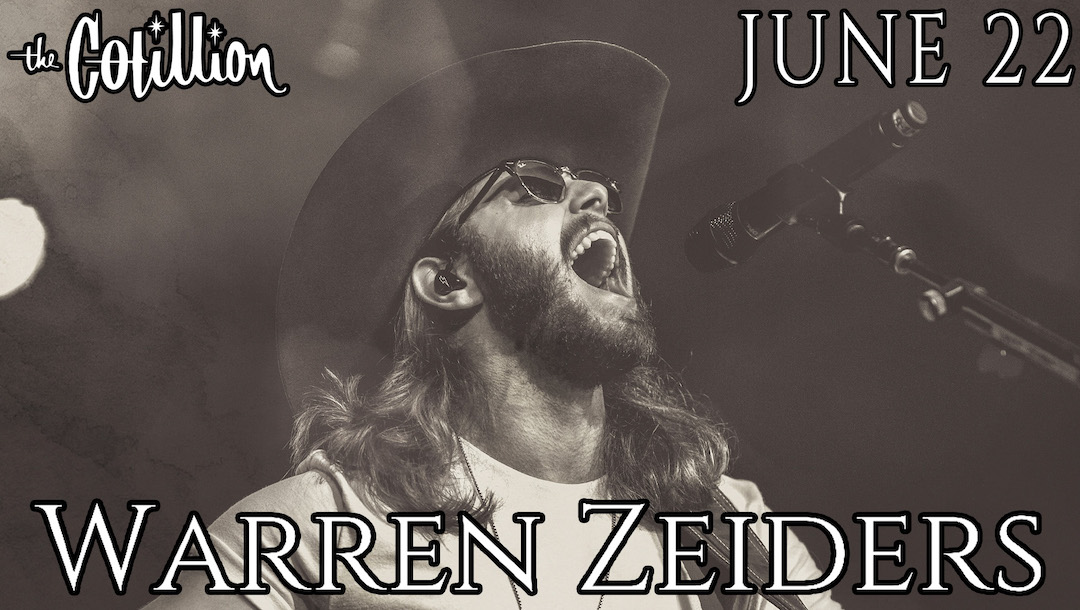 Warren Zeiders was just 22 years old when he signed his first recording contract with Warner Records' Los Angeles home office. At that point, fresh out of school, the second song he's ever written called "Ride The Lightening" had seemingly exploded overnight into the social conciseness of young country music fans. After a series of live covers,"Ride The Lightening" caught fire and ignited a community of true believers before he'd ever toured or played outside his hometown of Hershey, PA. Hundreds of TikTok posts turned into thousands and then millions.

Zeiders' distinctive, high energy country music is powered by a steady supply of youthful grit, honesty, muscle, and then, there's that voice; a world-weary, lived-in, honeyed growl that belie his young years. Hailing from central Pennsylvania, the now 23-year-old singer/songwriter delivers outlaw sermons with his unmistakable authenticity. His music is suited more to the vast wilderness of his home state than the bright lights of the big city injecting a healthy dose of Heartland ethos into his stories of real life and the pitfalls of temptation. He walks a fine line, but it's that space he lives in – between lonesome outsider and magnetic performer – that helps him relate to listeners from all walks of life through songs fueled by an unshakeable soul-searching. His original solo acoustic version of "Ride The Lightning" became an instant hit with fans that has resonated around the world.

Since then, Zeiders has released a string of rockin' but heartfelt tracks on his own 717 Tapes platform along with "Dark Night,"  "Burn It Down," "Wild Horse," "Up To No Good" and the raucous "One Hell of an Angel" that led People Magazine to surmise "Warren Zeiders is a wild horse who sings about the truth." Following a pair of well-received EP's, Zeiders hit the road for this first-ever tour with all dates selling out in under 72 hours. To date,  Warren Zeiders has amassed over 790 million TikTok views globally, in excess of 492 million audio streams and well over 39 million video plays on the heels of his recently released debut album 717 Tapes: The Album,  this past September. The album gathers up his 717 Tapes releases along with a handful of new tracks. into larger venues to accommodate his ever-growing legion of fans.

This fall, Zeiders will release a brand new track Zeiders has hit the road again, this time with a full band selling out every show and he moves written and recorded with Los Angeles-based hip hop artist Sueco, called "Ride It Hard," due for release October 28, on Warner Records. Look for fresh US tour dates to be announced soon.   

The Cotillion
11120 W. Kellogg
Wichita, KS
www.TheCotillion.com

– Wichita Events & Things To Do –
Thursday, June 22nd, 2023 @ 08:00
The Cotillion